Musical Gleeks, is a group created by LoveYouLikeCrazy. The Members in this group are LoveYouLikeCrazy, Sky Splitz, QuinnQuinn and Glee Rocks! Here is some basic info.
Rachel: LoveYouLikeCrazy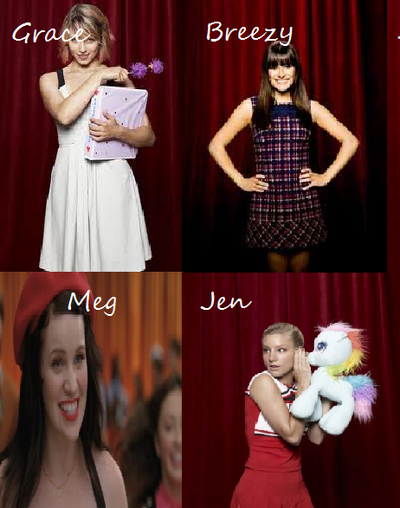 Quinn: Glee Rocks!
Brittany: SkySpitz
Harmony: QuinnQuinn
Mercedes: Sam is soo cute!
Logo: This>>
Motto: Not known Yet
How it was founded:
Breezy thought of the idea on the Glee Wiki, after the Beauty Crew-ty. She chose Rachel, Grace chose Quinn, Jen chose Brittany and Meg chose Harmony.
Fan Fiction about this Group
Edit
None Yet
Main Article: Gallery:Musical Gleeks
Sorry, but we are not going to add anymore people to our Group, we have enough. We are so sorry:( But Make Your own Group if you want to!
Ad blocker interference detected!
Wikia is a free-to-use site that makes money from advertising. We have a modified experience for viewers using ad blockers

Wikia is not accessible if you've made further modifications. Remove the custom ad blocker rule(s) and the page will load as expected.